If you are dreaming of a relaxing couple of days in a tranquil,  COVID19-safe environment….Gunyah Country Estate is just the place for you.  We often have special rates, please enquire!
Vouchers–the Ideal Gift!
 Birthdays, anniversaries, Christmas, special occasions… don't forget that a Gunyah Country Estate voucher is a great way to tell someone how much they mean to you. Vouchers can be issued in any value you like, whether to cover the cost of a bottle of wine, or a full multi-night stay with dinner–it's all up to you!  To get yours, just contact us by email or telephone  03 3186800. To use their voucher, the happy recipient can either phone or email us, or they can book online, mentioning in the booking notes that they have a voucher (please make sure they know to tell us the voucher number, and what it covers). This is a gift that anyone would enjoy, and they'll long remember your thoughtfulness for giving it to them!
If you wish to stay in one of our self-catering options, dinner, drinks, breakfast in the Lodge are available, extra, with prior reservation.
Why not take advantage of our ADVENTURE Package : Stay 2 nights min at Gunyah and receive 15% off a flight with Ballooning Canterbury (standard rate, 2 ppl min) and/or 25% off Rakaia Gorge "Discovery Jet  Tour" (standard rate 2 ppl min). Quote Promo Code GUNYAHADVENTURE 
Dates and Conditions apply. Please enquire!
Our new  We Love Gunyah Loyalty Programme is now live! After 2 direct bookings with us you will receive 5% discount on your next stay. After 4 direct bookings with us, the discount is 10% on any subsequent one. Please contact us for details. Remember, our direct rates are always better than anywhere else…
Other News
PROUD to score 9 + on OTAs booking sites !
EXCELLENCE AWARD from the Selwyn District Council for our SAFE FOOD PRACTICES each year to date since the introduction of the award in 2014.
NOMINATION for the 2018 and 2022 Selwyn District Council TOURISM AWARD as well as the HERITAGE AWARD
FINALIST for the CANTERBURY HERITAGE AWARDS in four categories : Retention, RESTORATION, Tourism and Seismic in 2014. www.heritageawards.co.nz
Luxury Methven Accommodation
In the rolling foothills of the Southern Alps west of Christchurch you'll find Gunyah Country Estate. Visitors to nearby Mt Hutt and Methven looking to experience the mountains, scenery and outdoor pursuits couldn't find a more central base than Gunyah. Your Mount Hutt Methven accommodation needs are catered for at our magnificent rural retreat.
The very small number of guests ever present at any one time, our stringent hygiene practices, our attention to detail and the space  you have around you here, make Gunyah Country Estate the best accommodation option possible in these tricky COVID19 times. 
In The Lodge at Gunyah Country Estate we indulge our guests in the understated grace and style of true quality in one of New Zealand's grand old rural homesteads. Alternatively you could stay in one of our pet-friendly Self-Catering houses on site (The Granary, The Stablehand Quarters or The Mulberry Cottage) for total independence and a different budget while still enjoying the same magnificent grounds and mountain views and the possibility of dining in The Lodge if you so wish, with prior reservation.
Silver service, open fires, logburners, comfortable beds, spacious rooms, unlimited wi-fi, or a fully kitted out house and kitchen… whatever your style, you will find it here at Gunyah Country Estate.
There's something special in the fresh air around Gunyah that makes people come back again and again – whether you're searching for a base for your vacation adventures, a contemplative sanctuary, the perfect location for your wedding, function or private company meetings, family or friends get-together …Gunyah will be that special place.
Find out more about Gunyah Country Estate, how to get here, our suites, dining, weddings and the local activities you can enjoy while staying at Gunyah.
---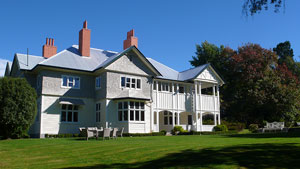 Suites
Set amidst beautiful gardens and woodland walks, Gunyah's tranquil surroundings and gracious suites provide a magnificent sanctuary for the discerning traveller who appreciates quality, culture, heritage and service.
Read more…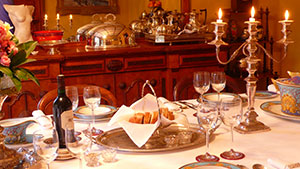 Dining
In the dining room at Gunyah Country Estate you will be treated to the sumptuous tastes of the freshest local fare prepared by our European chef. Every detail and refinement is catered to, so that you can relax and enjoy the delights of your meal in a warm and convivial environment.
Read more…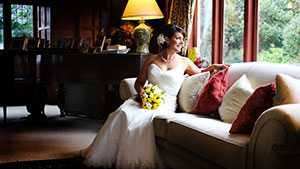 Special Events
Our beautiful setting, fine food and attention to detail make Gunyah the perfect spot for company functions, taylor-made weddings or group day visits, with a variety of indoor and outdoor locations suited to your needs.
Read more…
---
"Historic Mount Hutt Methven accommodation at Gunyah Country Estate. A magnificent rural retreat in the foothills of the Southern Alps."